Easy PMS Flexible Cable Adjuster
For Road Star & V-Star
Text, Pictures & Development by Jon Arnold
Article By Tony Anzalone
Standard Disclaimer:
I take no responsibility for damage caused to your engine, if you try this project. Tough this is a easy project, anytime you work on fuel systems or modify carburetors you could cause engine damage or fire from loose fuel lines. If you have any doubts about your abilities, consider a competent tech do it for you.
---
I wrote to John Arnald concering his mod this was his reply :
Sure! I just used a second Road Star idle adjustment cable set. I had to feed the spring onto the cable to make it work this way.
I pulled the knob off in order to get the cable through the hole in the bracket but if it's done right, you should be able to cut a slot in the bracket in order to get the cable in place without pulling the knob off.
The first pic is an illustration of how the bracket sits. It is mounted in a vacant hole which I tapped. (Hole is only vacant on non-California emissions models. Hole can still be used on CA models if smog devises have been removed.)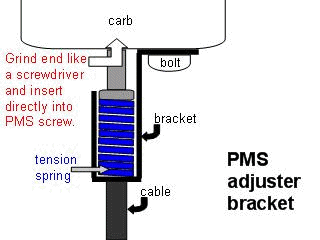 The second pic is what it looks like from the underside. (Imagine putting your head under the carb looking up.)
The rest of the pics are self explanatory. Another alternative to this mod would be to braze a cable directly to the PMS screw.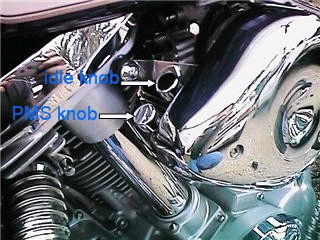 Jon Arnold
E-Mail = roadhogg1@go.com
---
Tony Anzalone (GoldKnight67 on Star Forum)
Give the Glory to GOD
Christian Page | Home Page | File D/L | Vietnam Vets | Motorcycles